Two More Anti-Science, Anti-Choice Bills Make Their Way Through the North Carolina Legislature
A bill that would curb minors' access to certain medical procedures has gone back to committee, but the North Carolina legislature remains intent on codifying anti-choice ideology.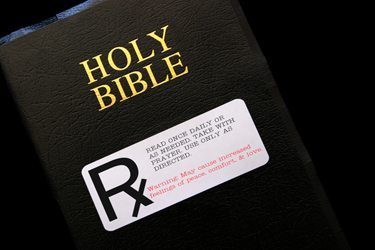 The Obama administration once again bends over backwards to accommodate "religious institutions" at the expense of religious freedom and public health, with unknown consequences down the line. God's word is always the best medicine via Shutterstock
A fast-tracked bill that's meant to curb minors' access to sexually transmitted infection (STI) testing and treatment, pregnancy testing and prevention, prenatal care, and even chemical dependency and emotional disorder treatments without first gaining consent from a parent or legal guardian was sent back to committee for retooling Wednesday. But HB 693 is just one of many bills being considered in North Carolina that, according to reproductive health advocates, prioritize anti-choice ideology and religious beliefs over concern for reproductive health-care access in the state. Some of these bills are marching through the legislature quickly.
HB 716, a bill sponsored by state Rep. Ruth Samuelson (R-Charlotte) that would ban so-called gender-based abortions, passed the full house Tuesday with a 77-40 vote. Despite there being no evidence that sex-selective abortions exist in the United States, one bill supporter cited the existence of sex-selective abortions in Asia as a reason to vote for the restriction. "This is a very simple decision. If you believe that a baby should be aborted just because it's a boy or just because it's a girl … then vote against this bill," argued state Rep. Pat McElraft (R-Carteret) prior to the vote.
Opposing the bill is the American Civil Liberties Union (ACLU) North Carolina, which says HB 716 would damage the doctor-patient relationship by turning doctors into "interrogators" concerned about protecting themselves from potential fines. "This bill undermines women who make the difficult decision to terminate a pregnancy by suggesting that they might do so for trivial reasons and should not be trusted to make their own health-care decisions," testified ACLU-NC Policy Director Sarah Preston during a committee hearing. "Most North Carolinians agree that the government has no business placing itself between a woman and her doctor, but this vaguely worded bill would do just that, forcing health-care providers to become interrogators out of fear of litigation from people who may have no relationship to the patient."
Meanwhile, SB 132 would require that health classes in K-9 school use educational materials that cite induced abortion as one of the causes of preterm birth. This is despite the fact that mainstream medical communities agree that an abortion does not increase risk of preterm birth; evidence of an increased risk has only be found among individuals who have had three or more abortions prior to a birth.
SB 132 received a second state senate hearing while lawmakers tinkered with the language, adding smoking, alcohol and drug use, and poor prenatal care to the list of preventable causes of preterm birth, which already included abortion. (So in one chamber of the legislature, lawmakers are underscoring the need for teens to receive quality prenatal care, while the other is considering withholding that coverage until a parent or guardian consents.)
SB 132 once more passed with amended language, despite objections from bill opponents concerned that the state is codifying its own religious or ideological viewpoints into law. "I am concerned about teaching our opinion as medical absolute," said state Rep. Angela Bryant (D-Raleigh) on the floor. Bryant noted that all major medical professional groups have denied that induced abortion causes preterm birth, and said she's worries that a teacher who mentions that fact while using state-mandated materials could be punished. "Will a teacher be in violation of the law if he or she notes that there are medical experts who say there is no correlation?" Bryant asked. Bill supporters responded by saying that they're certain a classroom debate would be a welcome experience.
Reproductive rights advocates argue that the amended version of SB 132 is just as misguided as its original version, despite the new language recognizing medically supported risk factors (in addition to the factually inaccurate claim about abortion). "We still strongly oppose the bill," Paige Johnson, vice president of external affairs for Planned Parenthood of Central North Carolina, told Rewire. "Abortion does not cause preterm birth, and in fact, not a single national medical organization recognizes a causal link between abortion and preterm birth."
NARAL Pro-Choice North Carolina agreed. "Senate Bill 132 continues to put politics over scientific and medically proven information," said Suzanne Buckley, executive director of NARAL Pro-Choice North Carolina in a statement to Rewire. "The amendment that passed on the floor today does nothing to change that the fact that the bill forces teachers to lie to their students."
These bills are making their way through the North Carolina legislature despite the objections of parents, teachers, and medical professionals. One parent told the story of being a teenager and hiding an STI diagnosis that, if left untreated, could have left her infertile or put her life at risk: "I remembered myself at 16. And I thought about what would have happened had that doctor sent me home with a permission slip to get signed before I could get tested and treated. I don't think I'm catastrophizing to say I probably never would have gotten a chance to sit here on my parental high horse and declare no child of mine would ever seek medical treatment without me at his side."
"They aren't thinking through the consequences of their legislation," said Johnson. "They just aren't considering the real-world impact of the bills that they are proposing."