One Oklahoma Parental Consent Bill Heads to Governor While Other Awaits Final Vote
Two bills that could radically change how teens access abortion are nearly on their way to the governor for her approval.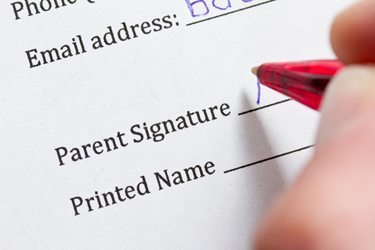 Beginning November 1, most teens who seek abortion in Oklahoma will not be able to do so without notifying a parent. Parental consent form via Shutterstock
An Oklahoma bill that would force parents to provide written documentation and have a valid ID to consent for their daughter or ward to have an abortion, and which would prohibit teens from seeking judicial bypass anywhere outside their county has received final approval from the state house. It now heads to Republican Gov. Mary Fallin's desk for signature. Another bill, which would eliminate all judicial bypass except in cases when someone has been impregnated by a family member, is expected to be heard this week and will likely follow the same path.
According to Tulsa World, HB 1361 passed the house 82-5 with "no discussion or debate." The bill had already passed the house previously but needed an additional reading after amendments were added by the senate.
HB 2015 also requires a second vote due to amendments, but has been added to the floor calendar.
The bills, along with a more extensive set of reporting requirements for doctors who perform abortions, have worked their way fairly easily through Republican-dominated chambers of the legislature.
If signed, the rules will make Oklahoma one of the most onerous states for teens seeking an abortion, making it difficult for youth from low-income families to terminate a pregnancy, even with parental consent. By requiring both a valid ID and notarized paperwork attesting to the relationship between teen and guardian, the bills add additional time and financial considerations to an already established 48-hour waiting period, potentially forcing some teens to delay getting an abortion or to continue the pregnancy.
Teens are quickly becoming the new battle ground for anti-choice lawmakers intent on using consent to cut off access to safe reproductive health care. A proposed bill in North Carolina takes the before unseen step of requiring parental consent for all reproductive health care, including diagnosis and treatment of STIs, pregnancy confirmation and prenatal care, and pregnancy protection, all as a means of forcing teens into a government mandated parental relationship. That bill has been opposed by both health-care providers and reproductive rights advocates.