Missouri Bill Banning 'Telemed' Abortions Could Limit Access to Medication Abortions Altogether
A new ban on "telemed" abortions could make accessing all medication abortions much more difficult for patients in Missouri.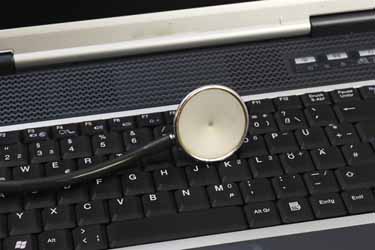 A new ban on "telemed" abortions could make accessing all medication abortions much more difficult for patients in Missouri. Stethoscope and laptop via Shutterstock
The anti-choice mission to eliminate access to medication abortion continues as Missouri takes an additional step to put restrictions on how RU-486 can be administered in the state. Spearheaded by Missouri Right to Life with the intention of eliminating medication abortion—a more private, less invasive alternative to a surgical procedure—the bill has passed the senate judiciary on a party-line vote.
Missouri is the latest state to propose a law allegedly meant to restrict so-called telemed abortions, or "web-cam abortions," but which would severely curb the ability to offer medication abortions in general. HB 400 mandates that a doctor be present when the patient takes the first dose of the medication, as well when she takes the second done 24 to 48 hours later. It also requires that the "physician inducing the abortion, or a person acting on such physician's behalf, shall make all reasonable efforts to ensure that the patient returns twelve to eighteen days after the administration or use of RU-486." The repeated office visits would make it much more difficult for women to obtain a medication abortion, and may cause many women to choose a surgical procedure just to save the additional trips to the clinic.
That's exactly what the bill intends. "We have cases of women on a computer 'Skyping' with a doctor in a different city while they are taking this pill," the bill's sponsor, state Rep. Jeanie Riddle (R-Fulton), told the Missouri Times, evoking Rep. Steve King's (R-IA) "Robo-skype" abortion comments. "That's just not safe. It's dangerous for the woman and allows her to be exploited, and it puts her at great risk."
Missouri Right to Life appears to have reached out expressly to Riddle to find the right sponsor for the bill. The fact that "telemed" bans and additional doctor trips are in bills being created by anti-abortion action groups and championed by anti-choice lawmakers should make it clear that patient safety has no role in the laws, and these anti-choice players are trying to create barriers to access.
"Non-surgical abortion, whether in-person or through telemedicine is safe and effective," Michelle Trupiano, public policy manager for Planned Parenthood of Kansas and Mid-Missouri, said during public testimony. "The bill's proponents do not have women's safety in mind. Their goal is to ultimately eliminate women's access to safe, legal abortion care altogether."
HB 400 has now passed out of senate committee and will head to the full senate for a vote. There are three weeks left in the session.