While Arkansas Politicians Curb Reproductive Rights, Allies Fight Back With Massive Rally
Rally organizers Claudia Reynolds-LeBlanc and Donna Shade discuss how Arkansas citizens aren't going to let anti-choice legislators take away reproductive rights without a fight.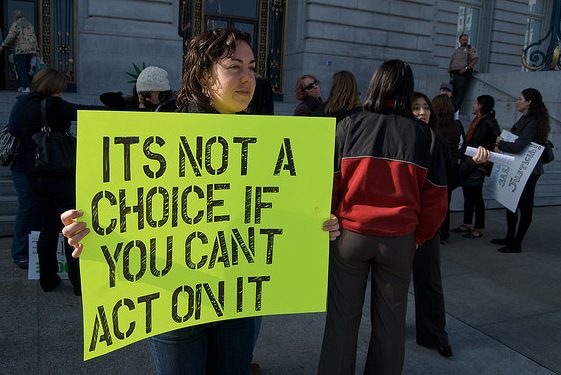 Rally organizers Claudia Reynolds-LeBlanc and Donna Shade discuss how Arkansas citizens aren't going to let anti-choice legislators take away reproductive rights without a fight. Steve Rhodes/flickr
With two highly unconstitutional pre-viability abortion bans on the books, Arkansas has gone from an often overlooked state in the reproductive rights battle to a leader in abortion restrictions. This is new territory for women's rights groups in Arkansas, and one that they are eager to organize around before access to abortion becomes more of a concept than a reality in the state.
Fighting back at this magnitude may be a new challenge for these groups, but they have quickly risen to the challenge. This Saturday, March 23, a group of activists organizing on Facebook will take their protest to the Capitol, where over 1,200 reproductive rights supporters are expected to gather to make their voices heard.
The protest promises speakers like State Sen. Joyce Elliott (D-Little Rock), American Civil Liberties Union (ACLU) attorney Rita Sklar, and Jaime Goswick, a Humanist minister and the catalyst for the protest. It will also remind anti-choice state politicians that not every person in the state agrees with their anti-abortion, anti-birth control agenda, and that those people vote.
Rewire spoke with two of the event's organizers, Claudia Reynolds-LeBlanc and Donna Shade, over email to learn more about how Arkansas went from being a mostly quiet state with regard to anti-choice legislation to the country's leader, and how pro-choice advocates hope to win back their rights.
Rewire: For the most part, Arkansas has really been off the radar for people who actively watch for threats to reproductive rights, yet this session bills are flowing left and right. Is this a result of the 2012 election, and if so, how did Arkansas end up with a more anti-choice legislature than before the election when so many other states went in the opposite direction?
Claudia Reynolds-LeBlanc: Certainly, the 2012 election saw the Arkansas Republican Party take majority control of our legislature for the first time since Reconstruction, a component of the massive flow of anti-choice legislation. This legislature is a reflection of the large number of religious conservatives in the state. Our state also has the highest percentage of lawmakers with no college education, according to the Chronicle of Higher Education. Not only is the legislature undereducated compared to the rest of the nation—we have an electorate that is below the national norm in college education. One in five drop out of high school at the ninth grade level. In addition, Arkansas has one of the highest poverty rates in the country. It is true that the Democratic Party has controlled the state legislature since Reconstruction, and just in 2012 included the ratification of the Equal Rights Amendment in their party platform, due in part to pressure from grassroots sources.
The Democratic Party of Arkansas (DPA) has been predominantly a Blue Dog party, and some members even run as conservative and "pro-life." As a matter of fact, often the Republican party won't even field a candidate against an incumbent Democrat, because the incumbent has served the Republican platform better than the Democratic one—as in the case of former Congressman Mike Ross. Since Obama was first elected in 2008, there's been a surge in Tea Party "patriot" activity and membership in Arkansas. Correspondingly, there was conflict within the DPA regarding support of the president and his policies, such as the Affordable Care Act. During the 2010 midterm campaigns, sometimes even on the part of Democrats, there was a lot of use of coded language and subtle race baiting, a strategy designed in the backroom plans of entrenched state partisans. The GOP gained seats in the legislature in 2010, but it has taken them until last year to reach a majority. As a result of the blurring of party lines in Arkansas, the House committee that passed the most restrictive abortion and birth control bills is controlled by 11 Democratic legislators and nine Republican legislators. We have felt pretty hemmed in here.
Rewire: Because Arkansas has been traditionally better at stopping these type of bills before they become law, the state doesn't seem to have the network of women's rights advocates that you'll see in other states that are under constant assaults, such as a local NARAL, a state reproductive justice group, or a religious organization for reproductive rights. How hard has it been to organize legislative opposition due to this, and has this become a bit of a turning point for grassroots reproductive justice organizing in the state?
Donna Shade: I think the combination of the previous long-term stability of our reproductive rights circumstances and a sense of isolation among actually invested feminists has been the reason for so little past organizing here. Lack of economic opportunity, a mostly rural geography, race and class divisions, and religious pressures in communities are some of the difficulties advocates face when considering attempts to organize. The number of college-educated and professional women has grown in Arkansas in the decades since Roe v. Wade, but younger women have grown up with reproductive choice being an accepted fact of life. The environment, the Bush legacy of war and the security state, and economic issues have been the most pressing for them until recently. They are the ones who are more likely to be independent, career- or activism-oriented women. Veteran second-wave feminists are very few, though there are more who identify as at least moderately feminist. Traditionally there hasn't been much activist culture in Arkansas, but I think it was beginning to break forth as a result of the Occupy Wall Street movement, which had surprising traction here, especially in Little Rock. This situation has certainly mobilized women, and it's been delightful for all of us to learn how much vaster our numbers are than we thought. A sense of solidarity has built rapidly.
We created the Arkansas…Stop This War on Women and Justice Facebook event and group page on January 31, and immediately received the support of over 700 "virtual grassroots lobbyists" who have worked tirelessly, researching and tracking bills, tweeting the issue, emailing media, and calling and emailing legislators and the governor. The availability of social media has been a tremendous help in our finding each other and working together, but our members are also getting the word out to their neighbors and friends, and reporting strong disapproval of the legislature. Through our Rapid Response Action Alert postings we were able to generate record-breaking numbers of veto request calls to the governor's office, twice—for the 12-week and the 20-week abortion bans. Sadly, the conservative majority in the legislature overturned his vetoes.
We have experienced a turning point for grassroots reproductive justice organizing in Arkansas, but these are just the battles.
Rewire: With Arkansas (for the moment) being the most restrictive state in the nation, you're receiving national attention at a historical level. Is that helping to build a grassroots response, emboldening anti-choice politicians, or both?
CRL: The anti-choice politicians needed no national media attention to embolden them in their legislative tactics. National attention is fantastic for the morale of the women of Arkansas and has aided in keeping our spirits up and our hope alive. It has been hugely  important to us in building momentum, and we hope coverage continues to increase through Saturday. A big spotlight on our situation and efforts could make an immense difference in how successful we are at having enough impact to create the sustained movement we need, the number of bills the ACLU and the Center for Reproductive Rights has to challenge in court now is growing by the day, and national coverage can help generate more material support for them, while it also brings pressure on the state through widespread public opinion. It would wonderful to see an influx of people from all over on Saturday, who organized to come show their support for this fight. I think it's clear that what this fight is over goes beyond Arkansas.
Rewire: Sen. Jason Rapert (R-Conway) is an open religious evangelical missionary in his own community. Does Arkansas have a history of religious leaders (pastors, ministers, reverends, and the like) running for office, or is this a more recent phenomenon?
DS: The majority, if not all, of Sen. Rapert's missionary work takes place overseas in places like Uganda and the Philippines. Arkansas has a track record of running religious leaders for the legislature, and as one of the most highly religious states in the nation, we often see religious affiliation in campaign materials along with the quote "Arkansas family values." I used to question folks as to what "Arkansas family values" meant and rarely got an answer. I have come to the conclusion that it means the candidate is a white, male church pillar with an impeccable but docile wife and freshly scrubbed children. It seems to also mean: if it is not affluent, white, and heterosexually centered, yours just might not be considered a family. Concerns of single parent families, the LGBT community, and people of color are not addressed. Acknowledgement of the existence of non-traditional families is avoided in the public sphere.
Rewire: The rally is already showing signs of growing and is likely to be a huge showing of support for reproductive autonomy. What are your plans to turn that energy, activism, and physical turnout into ongoing reproductive rights support in the state?
CRL: This is a matter of human dignity. As reprehensible and injurious as they are, the relentless attacks on reproductive justice are just the tip of the iceberg with this legislature. Compared to previous sessions, the number of bills is massive this year and includes, among many more outrages, moves to re-segregate schools, reductions in state scholarship funding, voter disenfranchisement via voter ID, mandatory drug testing for recipients of public assistance and even unemployment, protection of polluters against regulations to protect drinking water sources, making bond issue laws friendly and a better bargain for investors in a new steel mill (40 percent owned by Koch Brothers), criminalizing whistle blower photographers in the state's large pork and poultry industry, and even limitations on body art. Saving the zygote has taken the lead in this legislative session, yet the death penalty is still in place in Arkansas. Our legislature went hellfire fury to put the almighty gun into the church but still have to decide if they are going to "talk about Medicaid expansion" this session. Though the anti-women bills have become the focus, justice for all of human society in the state is at stake.
DS: We must conduct a full-scale restructuring within the community that will change the meme of the conversation about human rights and equality in Arkansans. Democracy has been hijacked in Arkansas; women are the hostages. We have to have the justice and equality conversation on behalf of all of Arkansas: women, children, LGBT individuals, people of color, immigrants, the disabled, the underemployed, the unemployed, poor and working class students, and the environment. We must educate the electorate in curing these social ills that hurt the whole of society. Our plans are to harness the grassroots energy and outrage that can begin a strong movement and take it to the people as a whole within the community. We intend to prepare for the upcoming midterm elections by conducting community forums across Arkansas in an effort to start the discussions about the lack of  human and environmental justice in our state. We're preparing to field progressive female candidates in time for the 2014 election. We have so many plans and goals that will require funding, and we'll be attempting to decide on ways to achieve the needed funds, but we will find ways! The tasks are daunting, but with perseverance and solidarity in purpose, we intend to win the war.
The Stop This War on Women rally will be held at the state capitol in Little Rock, Arkansas, Saturday, March 23, from 3 to 5 p.m.