Paid Sick Leave Pays for Itself: So Why Is NYC's Mayoral Hopeful Blocking It?
New York's city council has a bill that would require paid sick days for more than 1.2 million workers. Research shows it's an economic no-brainer. But the bill's been stalled for more than 1,000 days, even as a natural disaster and flu epidemic hit the city.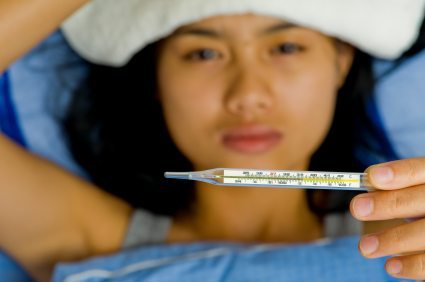 New York's city council has a bill that would require paid sick days for more than 1.2 million workers; calling for its passage, the New York Times editorial page noted that it is "a normal benefit for workers in at least 145 countries." RH Reality Check
Correction, February 26, 10:55 a.m.: A previous version of this article incorrectly noted the number of paid sick leave days that would be afforded to employees in the latest version of New York's paid sick leave bill. There is no longer a separate tier for businesses with 20 or more employees.
Rosa* lost her mother just a few weeks ago.
Her elderly parents lived at home in New York. A home health-care aide helped Rosa's father with the burden of caring for her mother, who had Parkinson's disease and had suffered a major stroke just over two years ago.
"We didn't want to keep her in a nursing home, for financial reasons, for germs. They basically told us to take her home," Rosa told Rewire.
The home health-care aide didn't have paid sick days, so she came to work sick one day, and Rosa's parents both wound up with the flu. Her 88-year-old father recovered; her mother did not.
"My dad lives with guilt that he allowed the person to stay," Rosa said. "I'm living with guilt because I came to work that day to make a few pennies."
Rosa takes unpaid leave from her job in order to care for her parents—her father still struggles with heart troubles and a bad back that makes it hard for him to get around. When Rosa is sick, she goes to the office. She uses her personal days to stay home with her family. (Rosa is also a breast cancer survivor.)
"It's basically women who are the caregivers," she noted. "I realize these corporations, they don't want to do paid family leave. But they're just eating themselves because the workers come to work exhausted.
"If it's between work and my parents, my parents must come first."
Rosa's home health-care aide was just one of the 44 million workers nationwide who don't have even a single paid sick day, according to Ellen Bravo, executive director of the Family Values at Work Consortium. A 2010 report from the Public Welfare Foundation and the National Opinion Research Center at the University of Chicago found that 55 percent of workers without paid sick days have gone to work with a contagious illness like the flu. "Thus, not having paid sick days is associated with an 18 percentage point increase in ill employees spreading diseases at work," the report said. And 24 percent of parents without paid sick days have sent a sick child to school or daycare.
New York's city council has a bill that would require paid sick days for more than 1.2 million workers. Calling for its passage, the New York Times editorial page noted that it is "a normal benefit for workers in at least 145 countries." The bill's been stalled, though, for more than 1,000 days, since its introduction in 2010, even as a natural disaster and flu epidemic hit the city. Christine Quinn, the powerful council speaker, has refused to bring the bill up for a vote, as Mayor Bloomberg and the business community are strongly opposed. Quinn has said that she's in favor of the policy, but not while the economy remains weak.
Now, the bill is shaping up to be an issue in the 2013 mayor's race, as a coalition of well-known and politically powerful women have declared they won't support Quinn in her historic run for mayor unless she allows a vote on the bill, and there are hints that there's a compromise afoot.
On February 25, a group of women elected officials from Congress, the state legislature, and the city council held a press conference calling for passage of the bill. Rep. Carolyn Maloney (D-NY) said, "…[R]ight here in New York, we can bypass congressional gridlock, enact paid sick leave, and make the Big Apple a national leader in protecting the health of our citizens and guaranteeing elementary fairness to all the working women and men who make our great city tick."
"I think it's pretty much a no-brainer," said Pat Kane, an operating room nurse at Staten Island University Hospital and treasurer at the New York State Nurses Association. "When public health emergencies have to be declared during flu season, when every recommendation from every government agency involved in health says you have to stay home, I don't see how you can have no requirement that people have to have this benefit when they're working."
Kane noted that at the end of January, the Center for Disease Control and Prevention released a new study on a new strain of norovirus, causing gastrointestinal illness, spread by people handling and preparing food. "A lot of those workers don't have paid sick days," she pointed out. "When you think about all the requirements to certify a restaurant, to me this should be one of those requirements."
Paid sick leave is good reproductive health policy as well, Bravo pointed out. "From whatever angle, whether it's prenatal visits, well baby visits or being able to have an abortion, people need time to take care of themselves without being forced either to forgo the treatment or forgo the pay or even worse, the job."
"When they say 'everyone's free to stay home when they're sick, they're just not free to keep their paycheck or their job,' that's not freedom," she continued.
Sick Leave Boosts Women's Finances
"When President Obama talked about the little girl in dire poverty, what she needs to be able to succeed, there's no way that little girl can be equal if when she grows up she's fired for being a good mother to her daughter or a good daughter to her parents," Bravo said.
For those women and girls living in New York, paid sick days would provide a visible economic boost. Fifty-four percent of New York City's lowest wage earners (defined by the Bureau of Labor Statistics as the bottom wage quartile, making an average of $8.37 an hour) are women. Sixty percent of that bottom quartile doesn't have paid sick days. And according to the Kaiser Family Foundation, half of working mothers do not get paid when they miss work to take care of a sick child. Those numbers go up as incomes go down; KFF found that two-thirds of low-income women (with family incomes below 200 percent of the federal poverty line) don't get paid when they miss work for a sick child, and three-quarters of the very poor (below the poverty line).
"We have a lot of single-female-headed households, particularly in communities of color," pointed out Councilmember Letitia James, who represents the 35th district in Brooklyn and is a sponsor of the paid sick leave bill. A lot of her constituents, she said, have told her that they face losing their job if they stay home. Paid sick days, she told Rewire, are "about job security. [Not having them] puts these women in precarious positions because they have to make these Hobson's choices. If we really are interested in moving people into the middle class, this can be a pathway into the middle class."
Women who are able to take paid family leave, Bravo noted, are more likely to be employed the following year. They're less likely to rely on public assistance and more likely to stay in the same position longer—which means raises, an increase in income, and stability. "This matters for people who care about mobility and equality," Bravo said. When a woman loses her job because of illness, her own or a family member's, "not only do you lose your income and fall into debt and forgo treatment and everything else, but then you have to get another job, and then you look like a person with a bad work ethic."
Kane, whose union is involved in organizing for paid sick days, volunteering for Hurricane Sandy recovery, and fighting the closure of the Long Island College Hospital, sees all these issues as connected to the larger struggle for economic justice and equality in New York (and indeed, some workers whose homes were destroyed by Sandy found themselves without a job because they had no paid time off). "When you have people who are underserved to begin with, you're not going to give them any paid sick time, you're not going to give them a hospital in their neighborhood, it seems like they're trying to move everybody out of the city that doesn't make a certain amount of money. Which is kind of ironic because those are the people that the city depends on to function."
"Poverty is real in our communities," James added.
Stalled in the Council
Particularly in New York, sickness can spread quickly. People use public transportation often, putting them into direct contact with hundreds of strangers each day. "There's always a higher risk, when you have a dense population," Kane said. "It's a city on the move, so they utilize a lot of these direct contact kind of services."
New York is also known as a progressive city (despite its recent trend of fiscally conservative mayors), and indeed the paid sick leave bill is co-sponsored by 37 members of the city council, enough to override any veto by Bloomberg, who is no fan of legislation that puts more requirements on employers. It would provide up to five paid sick days for companies with five or more employees. Smaller businesses would be required to provide unpaid sick days. The time would accrue at the rate of one hour per 30 hours worked, up to the maximum.
So what's the holdup?
In an October editorial, the New York Times wrote:
The two main obstacles to a sick leave bill are Mayor Michael Bloomberg and Speaker Christine Quinn. Both argue that such a change should not be required during bad economic times, even though there is little evidence that sick-leave requirements have hurt job markets elsewhere. Most business advocates are strongly opposed. Their voices are being heard over those of the 1.2 million workers who would benefit. 
Quinn told the New York Daily News in October, "In the economic environment we are in, small businesses are hanging on by a thread in many cases. And I think, although this goal is laudable, it's not one that I can support."
"Our answer to that is that bad economic times are the worst time to lose your job for being a good mother and following your doctor's orders," Bravo said.
James also argued that New York has not been hit nearly as hard as other cities by the recent recession—and that part of the stalled recovery has been wages remaining low and unemployment relatively high. Helping workers remain in their current positions and reducing workplace turnover would actually help, not hurt, economic recovery.
A report in October from the Economic Policy Institute found that the policy would provide benefit to businesses in the form of reduced turnover, while potential costs to employers were limited. "If all businesses are required to provide paid sick leave to their employees, then all businesses will have to weigh the same choices on prices, wages and other forms of compensation," Douglas Hall, one of the report's authors, said in a statement. "A paid sick leave law would level the playing field for New York City's businesses."
The Institute for Women's Policy Research found that paid sick leave would reduce emergency room visits and estimated that the policy would reduce health care costs by about $39.5 million annually, and save the city $5 million a year just in reduced Medicaid expenses. Another study from IWPR found that San Francisco's citywide paid sick leave policy, similar to the one New York could enact, had little impact on businesses while a measurable improvement in workers' lives; two-thirds of business owners there now support the policy despite fierce lobbying against it. 85 percent of San Francisco employers did not experience any loss of profits with the policy, and the EPI found that paid sick days in Connecticut would cost businesses just 0.19 percent of total sales.
But Speaker Quinn is not convinced, and because of the council's rules, she has been able thus far to block the bill from coming up for a vote, despite increased pressure from the community and from her Democratic primary opponents for the mayorship.
Common Cause and the Human Rights Project at the Urban Justice Center have criticized the rules that allow so much power in the hands of one individual. In a letter to potential new speakers, they wrote:
The City Council is set up so that the Speaker controls bill drafting, central staff, committee assignments, and most importantly, member item funding. As a practical matter, we understand that the Speaker also has inordinate control over scheduling committee hearings, the topics that they cover and floor votes. As a result, voters across the city, regardless of their representative, are subject to the discretion of a single individual…. Since the Speaker's office controls bill drafting, committee assignments and member item funding, Council members must always consider their actions in relation to the Speaker or risk retribution.
"I think many people are shocked when they realize how much power the speaker has," Bravo said. "How can it be a democracy when you have a veto-proof majority, but one person gets to decide when there's a vote?"
Quinn is considered the front-runner for the mayorship, but her closeness with Mayor Bloomberg (she worked with Bloomberg to get the council to allow him to run for and win his third term, despite two prior voter referenda supporting the two-term limit) has made some of her party's progressive base leery of her and earned her some vocal criticism. Cynthia Nixon, the Sex and the City star and, like Quinn, an out lesbian, chose to endorse current Public Advocate Bill DeBlasio over Quinn, citing the paid sick leave bill as a reason. John Liu, the city comptroller, and Bill Thompson, Bloomberg's 2009 opponent, are also supporters of paid sick time.
Speaker Quinn's office did not return a request for comment.
A coalition of women, led by Gloria Steinem, Ai-Jen Poo of the National Domestic Workers Alliance, Maria Castaneda of 1199 SEIU (a healthcare workers union), Hazel Dukes of the NAACP New York, and others have called on Quinn to pass the bill, and declared they will not support her candidacy unless she brings the bill up for a vote. Steinem reiterated this position on February 21, releasing a statement that read, in part, "Unless Speaker Quinn lets democracy work by allowing the city council to vote on this issue, I say with continuing regret that I won't be able to support her. Making life fairer for all women seems more important than breaking a barrier for one woman."
"As much as we care about having more women in power, we care most about having more power in the hands of women and everyone else that's been treated unjustly," Bravo said. "Stopping people from being forced out of their jobs or forced to lose income just because they care about their health or their family has to be high on the list of anyone who claims to be a champion of either feminists or democracy."
Moving Forward
Maria Rhodas has five children. She works as a cashier at Mango King, a grocery store in Brooklyn, making minimum wage, with no paid sick time. "There are all these moments where I get sick and we can't count on having that benefit and I can't take care of myself," she said. (This interview was conducted in Spanish.)
Five years ago, she had a different job as a cashier, and her then five-month-old daughter got sick. Maria got the call at work that her little girl had pneumonia—she had to leave directly from work to go to the hospital, where her daughter had to stay for a few days to be monitored. She called her boss and said that she would have to stay overnight, but her boss accused her of lying. Eventually they said she could have the week off but when she came back they fired her. She brought back a letter from her daughter's doctor, but they didn't accept it.
Rhodas is a member of New York Communities for Change's worker committee, organizing with immigrant workers around Brooklyn for paid sick days and better conditions in the workplace. NYCC is one of many groups, along with the Working Families Party, Make the Road New York, the New York City Central Labor Council, Moms Rising, Planned Parenthood NYC, and even some business owners, calling for the passage of the paid sick days bill.
Meanwhile, Bravo pointed out, the chief opponents of the bill are the same business groups that fought health-care reform, oppose extended unemployment benefits, and keep wages low. The Manhattan Chamber of Commerce, leading the opposition to paid sick days, also fought the city's living-wage law, which Quinn famously bargained down to the point where it would only cover a few hundred workers at businesses that received public subsidies.
Laura Clawson at Daily Kos Labor looked into a report by one such group, the Employment Policies Institute, which released a report of Connecticut businesses claiming to be hurt by that state's recently-passed statewide paid sick time mandate. Clawson found that despite complaints from business owners, Connecticut's economy is getting better, not worse:
Employment in the two industry sectors most likely to be affected by the sick leave law rose in Connecticut in 2012. Just as, following the passage of a paid sick leave law in San Francisco(PDF), that city did better than the surrounding counties on several employment measures. In March, 2011, the owner of the U.S.S. Chowder Potrestaurants testified before the state legislature that if paid sick leave became law, 'I would be forced to close both restaurants resulting in a loss of approximately 240 full time and part time jobs.' Today, both restaurants are hiring. Similarly, one of the partners in The Hartford Restaurant Group, hitting the small business angle hard despite his company owning eight restaurants, said paid sick leave was 'unreasonable and not practical, and most likely would stunt any growth opportunities.' You know, growth like opening another restaurant and buying a large building for storage and corporate offices, which The Hartford Restaurant Group has done.
Other cities are also moving this issue; Philadelphia will hold a hearing in March and a vote in the city council on its earned sick time bill; Portland, Oregon, is working on its own bill; and the states of Maryland, Vermont, and Washington have bills as well. "The real momentum is at the state and local level," Bravo noted. "Like we won family leave, we won it first in the states. People say you can't have New York be an island, you need a national standard, we say we do need a national standard and this is how you get there."
Seattle, San Francisco, and Washington, D.C., in addition to Connecticut, all have some sort of paid sick time requirement, and the growing movement is indeed spurring action on the federal level. Sen. Tom Harkin (D-Iowa) has said he'll reintroduce the Healthy Families Act, originally put forth by Ted Kennedy in 2009, that would provide up to seven paid sick days for workers at businesses with more than 15 employees. In an op-ed stating his support, Sen. Sherrod Brown (D-OH) noted, "The Healthy Families Act would allow American workers to earn the sick leave that would once have been negotiated on their behalf by unions through collective bargaining."
As for New York, the city council has set a new hearing date of March 22 for the paid sick days bill, and according to Councilmember James, there may be a compromise bill in the works. "I think there will be a bill put forth on the table, I believe it will be significantly different than [the one we have now]. It's not currently in print," James told Rewire. "The details have not been made public but I suspect that there are active discussions going on behind the scenes as we speak."
The rumors of compromise show that the pressure is on Quinn—the fact that the hearing was scheduled the same day as Steinem's comments reiterating a need for a vote on the bill seems a little more than coincidental to political observers. The speaker's been burnishing her pro-worker credentials; after being booed when she addressed a rally of low-wage workers, she led the rally for a group of Cablevision workers, union activists, who'd been fired in what they say was retaliation for their organizing.
"I think it would be a blight on anyone's record if they were to block this legislation," James pointed out. "I don't believe that any individual wants to be associated with blocking progressive legislation, particularly if they're running for mayor."
*Not her real name; Rosa asked to be identified by a pseudonym to avoid a possible threat to her job.