Is McDonnell Planning to Eliminate Insurance Coverage of Safe Abortion Care in Virginia?
Not content to remove coverage once, the governor is tacking amendments to ensure abortion coverage is really, really banned.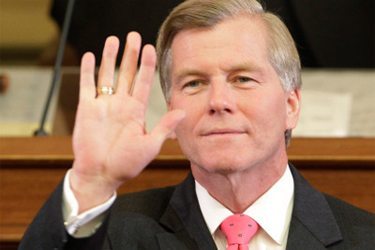 Virginia Governor Bob McDonnell. MSNBC
As more states prepare to put into effect the new state health exchanges mandated under the Affordable Care Act, many Republican governors have been using the opportunity not just to ensure that abortion coverage is eliminated from state plans, but to force it out of private insurance plans in the state as well. Now, Virginia Governor Bob McDonnell may be the latest to jump on the bandwagon.
According to The Virginian-Pilot, Gov. McDonnell is crafting a restrictive abortion coverage ban for the state exchange, but some legislators believe that the wording could be used to go beyond just the exchange, banning coverage in private insurance, too. Sen. John Watkins, R-Powhatan County told The Pilot he was concerned that "an amendment drawn too broadly could restrict abortions in private insurance plans, something that would go 'way too far.'"
So what is "too far?" NARAL Pro-Choice Virginia notes that Gov. McDonnell's 2011 plan would not only forbid any private insurer that participated in the state exchange from providing abortion coverage, but it would also forbid women from purchasing separate riders, even with their own personal money. 
"It is unacceptable that Governor McDonnell is attempting to hold health care legislation hostage in order to further his agenda of intruding in Virginia women's personal medical decisions," said Caroline O'Shea, deputy director of NARAL Pro-Choice Virginia, via statement. "Despite the governor's outward focus on other issues this session, it is obvious that his attacks on reproductive rights and health-care access are alive and well behind the scenes. With this latest action, Governor McDonnell and his anti-choice allies once again reveal their true political intentions: intrude in personal medical decisions and erode access to vital reproductive-health care in our state. It is outrageous that Governor McDonnell would jeopardize women's health in the name of an ideological crusade."
Gov. McDonnell's amendment is expected to be tacked on as amendments to House and Senate bills regarding the state health insurance exchange.