No Plan B: Why Is the Indian Health Service Denying Native American Women Access to Emergency Contraception?
Native American women don't have access to emergency contraception despite repeated requests by women's groups to the Indian Health Service. Everyone from the IHS to the Department of the Interior to Senators to the White House is involved in the decision, but no one appears to be taking responsiblity. How much longer do Native women have to wait?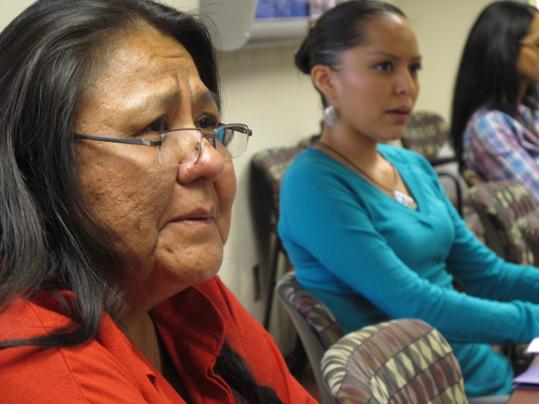 Donna House, 58, left, participates in a forum on access to emergency contraception. (Russell Contreras/AP)
Published in partnership with the American Independent.
"No, ma'am," says the pharmacy tech over the phone at the Choctaw Nation's health clinic in Hugo, Okla., when I ask if the clinic carries emergency contraception.
At the Pokagon Band of Potawatomi Health Services clinic in Dowagiac, Mich., the pharmacy tech who answers the phone tells me the clinic does not carry Plan B or any other emergency contraceptive that can prevent pregnancy up to 72 hours following unprotected sex, failed contraception, or sexual assault. And no, she doesn't know the nearest place to get any.
The person filling in at the Black Hawk Health Center in Stroud, Okla., after checking with staff, tells me the clinic does not carry any emergency contraceptive. He suggests trying Stroud Drug or the Walgreens or CVS in Edmond, about an hour drive from Stroud. I could also try the Walmart in Shawnee, he says.
I learn from the Citizen Potawatomi Nation tribal clinic in Shawnee that it does not carry emergency contraception either; though again, I'm referred to Walgreens, CVS, and Walmart.
Were I a Native American woman—which I'm not—I would have less incentive to go to a retail pharmacy like one at Walmart or CVS. Because at a pharmacy affiliated with the Indian Health Service—a federal agency that provides health services for American Indians and Alaska Natives—emergency contraception, like most medication, would be free. And even if I did have the fifty or so dollars it might cost for the so-called "morning-after pill," I might not have a way to get to a retail pharmacy, if I don't have a car or if I live on an isolated reservation.
About a month ago, I reproduced an informal phone survey originally conducted last September by the Native American Women's Health Education Resource Center, based in Lake Andes, South Dakota. I called the same 63 centers (though I was not able to reach every one), all funded by IHS, asking the questions asked in the original survey: Does your pharmacy carry Plan B or another emergency contraceptive? And is it offered over the counter? I did not identify myself as a reporter.
Though some of the pharmacies contacted in that original survey, and in my own reproduction, said they offered emergency contraception over the counter, more often pharmacy techs or pharmacists said that either their clinics offered the drug by prescription-only, or not at all. In all, the NAWHERC study found that only 11 percent of the pharmacies surveyed carried emergency contraception over the counter, about half carried emergency contraception but required a prescription and a doctor's visit, and about 43 percent of the pharmacies contacted did not carry Plan B at all.
In 2006, the Food and Drug Administration approved the over-the-counter use of Plan B for women 18 and older. In 2009, the FDA approved the over-the-counter use of Plan B and the updated Plan B One-Step, as well as a generic version of Plan B called Next Choice, for women 17 and older. And last year, the agency approved the generic Next Choice One Dose to be taken without a prescription for the same age group. (Other, prescription-only forms of emergency birth-control have been approved by the FDA, as well.)
According to the Centers for Disease Control and Prevention, if taken within 72 hours of unprotected sex, Plan B reduces the risk for pregnancy by at least 75 percent.
But for many Native American women, it can be difficult to obtain emergency contraception over the counter, which can in turn diminish the chances that the drug will prevent an unintended pregnancy. The time to schedule a doctor's appointment, attend the appointment, obtain a prescription, and fill that prescription—and the fact that many IHS and tribal clinics close after 5 p.m. and during weekends—further reduces access to the drug.
A 2012 study assessing the accuracy of information on emergency birth control provided to teens and their physicians, published in the journal Pediatrics, noted that "with every 12-hour delay in taking the first EC dose after unprotected intercourse, the odds of pregnancy increase by nearly 50 percent. Therefore, even minor delays in obtaining EC substantially increase the likelihood of pregnancy."
Native women's advocates spent the better part of 2012 calling for the Indian Health Service to implement a standardized policy on obtaining emergency contraception without a prescription. The agency has made no official move on this requested policy and has remained largely silent on the issue, repeatedly giving me and other reporters vague responses, to the effect that IHS is "in the process" of standardizing its procedures, without confirming any specific plans.
However, communications provided to me reveal that IHS claimed to be working on a policy months ago.
In the face of silence on when women can expect improved access to emergency contraception on tribal lands, Native women's advocates—led by NAWHERC Executive Director Charon Asetoyer and consultant Pamela Kingfisher—have taken it upon themselves to help tribal communities learn more about their right to a reproductive health service enjoyed by the rest of the country. They have been collaborating with tribal groups across the nation, hosting workshops and roundtables with women's shelter workers and community leaders, and pestering government officials for answers on any upcoming policies.
"I think it's upon us women now to challenge our leadership, to step up and stand up for women, especially if the federal government is not going to do it," said Kingfisher, a member of the Cherokee Nation in Oklahoma.
'Moccasin telegraph'
On one of several occasions I spoke with Asetoyer, she told me social media has helped accelerate awareness of this issue, but that in addition to posting Facebook updates, sharing information on Native radio, and talking to women's shelters and community members, she is counting on word-of-mouth to keep spreading the message.
"Native women have an … ability to share information and get information out to their community," said Asetoyer, a member of the Comanche Nation of Oklahoma, who now lives on the Yankton Sioux reservation in South Dakota. "We've always called it the moccasin telegraph, and it's very, very effective. … I mean, people who don't have computers, you know, are privy to the information because of how effective our moccasin telegraph is."
The Native American Women's Health Education Resource Center's public-awareness campaign officially began in 2010, but it really took off last year, with the media stir created by a roundtable report Asetoyer and Kingfisher co-wrote and published in February. The report featured testimony from more than 50 Native American women living on reservations—many of them sexual-assault counselors and also former victims of sexual assault—and found that access to emergency contraception at IHS facilities is inconsistent, part of which is due to the nature of the Native American health-care system.
IHS serves about two million members of nearly 600 Native American tribes and receives its funding through annual appropriations. The federal agency contracts many services to tribes, which are not necessarily required to follow federal mandates. Some of those tribes also contract services out to private groups. Complicating matters further, it's common for facilities to be run partly by IHS and partly by contractors.
"Dedicated Emergency Contraceptive" is listed in the Indian Health Service's National Pharmacy and Therapeutics Committee's "National Core Formulary," but that doesn't mean every pharmacy carries it.
Most of the clinic pharmacies that told me they didn't carry emergency contraception were run by contracting tribes. Though the NAWHERC study did identify some IHS-run facilities that said they did not carry emergency contraception.
"Now we also have tribes who are quote unquote 'contracting' pieces of their health care, so it turns into this crocheted bedspread, if you will, of mismatched policies and who's in charge of who and who's in charge of implementation and the lack of money within the Indian Health Service budget to make sure these policies are implemented," Kingfisher said.
Among the problems the report identifies, based on testimony from roundtable participants, is lack of awareness of emergency contraception and what it does.
"Most Native American women, and their service providers, are not aware of emergency contraception like Plan B®, or they have heard of it but have been confused by media coverage to believe it is the abortion pill RU486," reads the roundtable report. "Only a few of the health care workers and service providers attending the Roundtables fully understood the difference between the two pills, depending upon their area of services or expertise."
A couple of pharmacy workers I spoke with during my informal survey seemed confused about what Plan B was. One pharmacy tech at the Eufaula Indian Health Center in Eufaula, Okla., didn't know Plan B was a contraceptive.
Another, at the El Reno Health Center in El Reno, Okla., told me she didn't think the clinic carried Plan B.
"This is a federal facility," she said, presumably assuming that Plan B is an abortifacient, like misoprostol or mifepristone. Federal funds cannot be spent on abortion, with limited exceptions.
While sexual assault is a major part of this issue, one thing advocates are bent on communicating is that emergency contraception should be available to all Native women of age, not just victims of sexual assault.
Asetoyer and Kingfisher said anecdotal evidence collected through their work with women in communities has shown that some clinics and facilities on reservations will only provide women with access to emergency contraception if they order a rape kit — a process that could take longer than the 72-hour window when emergency birth control is effective, depending on the clinic's hours.
"It could have been a condom break; it's as simple as that," Kingfisher said. "You really want emergency contraception to make sure you prevent a pregnancy. It shouldn't have to be rape and assault. And it isn't when you go to the pharmacy that's [outside the reservation]. … You don't have to tell them anything. And we believe that Native women should have sort of those same rights—of you know, it might be a married woman with five kids that just can't take another pregnancy or economically raise another child and needs an emergency pill. We shouldn't have to spill our guts every time."
Searching for answers
After NAWHERC released its report last February, Sunny Clifford, a member of the Oglala Lakota Nation, who lives on the Pine Ridge Indian Reservation in South Dakota, started a Change.org petition, which received more than 115,000 signatures. In June, the National Congress of American Indians, which comprises more than 800 tribal leaders and representatives, adopted a resolution urging IHS to make Plan B available over the counter and to standardize its sexual assault policies and protocols, noting that NAWHERC's "Roundtable Report exposes the human and sovereign rights that are being contradicted within the polices of the I.H.S."
The NCAI's resolution said it would "request Dr. Yvette Roubideaux, the Director of IHS, to issue a directive to all service providers that emergency contraception be made available on demand—without a prescription and without having to see a doctor—to any woman age 17 or over who asks for it."
But no such directive has been issued yet.
Following the roundtable report, when news outlets reached out to IHS for comment on any potential plans to make emergency contraception available without prescription, IHS was not forthcoming. The same vague official statement appeared on CNN and Colorlines.com, in an Associated Press story, and in my email inbox: "IHS is in the process of standardizing our procedures to ensure patients have access to the medicines they need."
My repeated requests for information, including a Freedom of Information Act request, have gone unanswered. But Asetoyer has had more luck getting information from the agency.
In response to several phone calls, IHS Chief Medical Officer Dr. Susan Karol sent Asetoyer a letter dated May 21, 2012, in which Karol assured Asetoyer that "IHS is finalizing a policy to make Plan B® available in IHS pharmacies 'behind the counter' and 'over the counter' for female patients ages 17 years and older."
"Currently, each IHS facility has a mechanism in place to facilitate timely access to EC," Karol wrote. "…Many IHS and Tribal sites have already taken steps to streamline the handling of EC by authorizing licensed clinicians to provide the medication directly to the patient. This is the direction we want all of our facilities to go."
Asetoyer said she followed up with Karol about two weeks later, via email, asking for a timeline on the Plan B policy. She told me she never received another written response. But Asetoyer said that in a follow-up conversation, Karol told her that the new policy in question was under review at the White House.
(Karol did not respond to my request for confirmation on this correspondence; however, Asetoyer provided me with Karol's letter, as well as Asetoyer's follow-up email.)
A staffer for Sen. Tim Johnson (D-South Dakota) was able to confirm that a Plan B policy is being reviewed. Last October, the staffer forwarded Asetoyer answers from IHS.
"The IHS Access for Emergency Contraception Special General Memorandum is in review at the Department and our formulary does include all categories of oral contraceptives," the IHS congressional liaison wrote in response to one of the Johnson staffer's questions.
("Department" in this email referred to the Department of Interior.)
In the email, the congressional staffer said that a written policy to reflect the national policy on emergency contraception—available without a prescription for women over 17—"is under development." However, no timeline was given.
"No one has seen these policies that Dr. Karol has spoken about," Kingfisher told me. "We hope that we could take her on her word at what she said in writing. … She's been very cooperative and working, you know, fairly closely, talking to Charon, which is all good. … So we are taking her at good faith that nothing happened."
Aside from Johnson, fellow Sen. Barbara Boxer (D-California) has taken an interest in the emergency contraception issue.
Last month, one of Boxer's staffers called up Asetoyer's group, requesting information about this issue. A spokesperson for Boxer's office, Zachary Coile, said one of Boxer's staffers had read about the emergency contraception issue in the news. He said for now Boxer's office wants to learn more about what's going on, explaining that the senator has always been "active on these issues of lack of access to women's health services."
Barriers to emergency contraception
The call for standardization has been at the center of the push for improved access to emergency contraception on Native lands. It's a complicated issue; as in other facets of Native American life, autonomy among individual tribes is often preferred due to the varying nature of each tribe and their geographical setting.
But a significant part of this issue is the high rate of sexual assault among Native American women. The Department of Justice estimates that one in three Native women will be sexually assaulted in her lifetime.
"I've heard women ask for information about Emergency Contraceptives so they can talk to their daughters about what to do when they are sexually assaulted, not if they are sexually assaulted, but when," Asetoyer was quoted as saying in last year's roundtable report.
When talking to me about the need for access to emergency contraception on tribal lands, Don Downing, a pharmacist and pharmacy professor at the University of Washington in Seattle, immediately referenced rape victims—though he was quick to note that not only rape victims need the drug.
"When it comes to actually getting to the point where [Native women are] made aware that they're at risk for an unintended pregnancy and they're also aware that emergency contraception exists, any further barrier to getting it just seems like you've just, you know, victimized the victim," Downing told me during a recent phone interview. "If there is a victim. … These are not all rapes, but on tribal land, rapes are a huge problem, and so in many cases it is somebody who did not consent to sex."
Downing, who said he was on the team that named Plan B when it first came out, has been working for more than two decades to break down barriers to emergency contraception. Even before an FDA-approved morning-after pill was available on the market, Downing advocated for the use of certain combined oral contraceptive pills as emergency birth control, a practice the FDA approved in 1997.
One of the major barriers to Native women accessing emergency contraception, Downing said, is requiring a prescription to obtain the drug.
In the late 1990s, Downing worked on a two-year pilot project in Washington state to increase women's awareness to emergency contraception, coupled with a training program for state pharmacists to capitalize on the fact that the state has, since the late 1970s, allowed community pharmacists to prescribe medications directly to patients through a practice known as a "collaborative drug therapy agreement." According to an American Pharmaceutical Association report submitted for reference to the Food and Drug Administration in 2001, at the end of the project, pharmacists had filled about 12,000 prescriptions for emergency contraception. Downing told me that prior to this study, the state's average of prescriptions written for emergency contraception was closer to 2,500 a year.
Downing said he brought this method to the Puyallup Tribal Health Authority in Tacoma, Wash., in the early 2000s, while he was the pharmacy director there. Essentially, he said, he instructed pharmacists to counsel patients who came in looking for emergency birth control and then immediately give them the drug, with a glass of water.
"In and out in 10 minutes," Downing said. "And it not only helps that woman, but it helps the next woman, who heard from their sister or girlfriend or whatever, their cousin, that there were no barriers. And therefore, women are more likely to come in to begin with."
Other studies have backed up the theory that accessing emergency contraception directly from pharmacists versus physicians increases use of the drug.
One study, published in 2001 in the American Journal of Public Health—which measured the risks and cost-savings of obtaining emergency contraception from a pharmacist versus from a physician—researchers found that "under varied assumptions, obtaining emergency contraceptive pills directly from a pharmacist reduces the number of unintended pregnancies and is cost saving."
What Downing doesn't like to see is something he said he recently observed while auditing some tribal clinics in Alaska last spring, at the request of a few leaders within the Southeast Alaska Regional Health Consortium, an umbrella group of tribal clinics in southeastern Alaska.
"I noticed that women who needed to get emergency contraception either had to make an appointment or they could come in as a walk-in in the clinic, but then they had to wait, and when their doctor had a moment of free time in between patients, they were seen by the doctor, and then if the doctor agreed that emergency contraception was appropriate, they wrote them a prescription and then they had to wait to get that prescription filled in the clinic pharmacy," Downing said, explaining one clinic's emergency contraception process.
He noted that emergency contraception protocol was not the focus of his audit, but he said it's this type of situation that deters Native women from wanting to access the medication, especially if they think they might have to wait for hours in a waiting room where nosy family members might ask them why they are there.
Traci Gale, the director of pharmacy at the Southeast Alaska Regional Health Consortium, said that since Downing made his observations, the consortium has plans to implement a new protocol allowing pharmacists to dispense emergency contraception without a clinic visit, something she said she's been wanting to do for a long time. She said that the nature of the Indian health pharmacy system requires detailed documentation of all patients' medical and medication histories. Thus, the Consortium has had to develop a system to treat emergency contraception as an over-the-counter drug while also documenting its use into patients' charts.
She said she hopes to have this process completed within the next three months. Though she said that all the clinics moving their health records to an electronic system has slowed down the process a bit.
Gale mentioned that most of the push-back she's gotten has been from physicians (just a few, she said) rather than pharmacists.
"It's kind of a loss of control," she said.
Gale said the new protocol will include counseling to patients to let them know emergency contraception should not be used as a primary form of birth control. She also said the Consortium would be working on a public-awareness campaign, to make citizens aware of the drug.
"Quite honestly, the focus now is more on prevention and making sure that they have like a Plan B at home just in case, like when they're prescribing birth control pills, they'll prescribe a Plan B also," Gale said. "'Cause the patient's more likely to use it if they have it."