Bob Marshall Just Can't Take No For an Answer
Not content to have his bill brushed aside, the Virginia Republican says he'll look for some chances to amend other proposals to get a vote.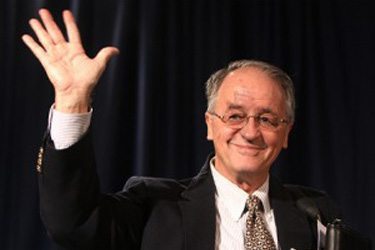 Bob Marshall. Photo: Watchdog.org.
Don't expect Virginia Delegate Bob Marshall to give up on his controversial, unpopular anti-choice legislative proposals just because the legislature is refusing to bring them up for a vote. No, Marshall has sworn that if he has to, he'll just add them on to other bills to get them through.
Via Huffington Post:
If the Republican establishment continues to reject the bills he writes, he said, he will use backdoor methods to advance his legislation. He said he is "always looking for bills to amend" with abortion-related stipulations in order to force members to go on record in support or opposition.

"For example, I might amend a bill that deals with life insurance to say the child killed in utero should be recognized as a legal person," he said. "Just put that in there and stipulate it. I've seen massive shifts on lobbying and delegates pulling their bills because they know I'll amend them and that I know how to do it in a germane way."
Some politicians just don't know how to take no for an answer.