New Jersey Court Rules No Cause of Action For "Coerced Abortion"
A New Jersey Court of Appeals decision shows the holes in the anti-choice movement's "coercion theory."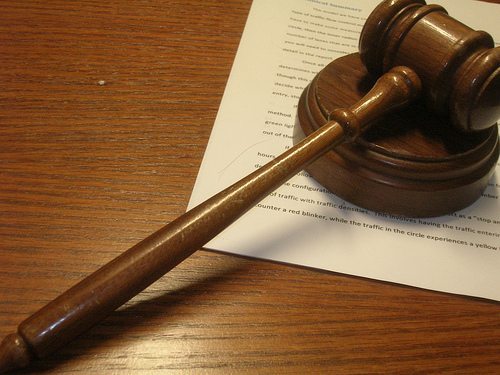 photo courtesy of steakpinball via flickr
The New Jersey Court of Appeals ruled that a woman cannot sue her former boyfriend for "coercing" her to have an abortion. The case, and the decision, highlights some of the fundamental missteps in the anti-choice movement's embrace of the idea of coerced abortions.
According to court filings, the woman, who was not identified by name, became pregnant in early 2011 and informed her boyfriend she wanted to keep the child. He did not and urged her to have an abortion, promising to take her on a vacation and stay in the relationship if she did. In February 2011 the woman had an abortion and shortly thereafter the relationship ended.
She sued, alleging fraud and misrepresentation by her boyfriend. The lower court dismissed the lawsuit holding that a promise of a vacation and representations the relationship would continue should she have an abortion did not, as a matter of law, constitute claims a court could remedy. Furthermore, the court held, enforcing the purported agreement between the woman and her boyfriend was contrary to New Jersey public policy and analogous to New Jersey law that recognizes a right not to procreate through in vitro fertilization following a divorce.
Here is how the New Jersey Court of Appeals framed the woman's argument:
She explains that the lawsuit was not about enforcing defendant's promise to remain in the relationship but instead about defendant intentionally interfering with her "recognized reproductive liberties by maliciously and fraudulently commandeering and corrupting [her] protected right to wield control over her body and to make her own reproductive choices." In other words, her having the abortion triggered her cause of action, not defendant ending their relationship. This is a distinction without a difference. As Judge Carver correctly determined, all of plaintiff's claims were based on defendant's promise to stay in her life, which is unenforceable.
Coercion theory of course relies on the idea that women are not strong-willed enough to make a decision like terminating a pregnancy on their own accord. The New Jersey Court of Appeals rejects that idea outright.
Plaintiff's decision to have an abortion may have been influenced by defendant, but she made the ultimate decision to terminate her pregnancy. Under the law and public policy, there is no cause of action for terminating one's pregnancy and then regretting the decision due to subsequent events. In other words, plaintiff's claim is damnum absque injuria – a wrong for which there is no remedy.
Knowing that the law does not recognize a claim for regretting an abortion makes it clearer why so many recent abortion restrictions have coercion clauses built in, requirements that doctors or health care professionals screen women prior to the procedure to somehow determine that their consent is really consent. And it also makes sense why the idea of spousal notification/consent is seeing a resurgence in the anti-choice community. But as this New Jersey decision makes clear, we either believe women have the power and ability to make these decisions for themselves or we don't. It's clear what the anti-choice world believes.