Law Students Fight Fordham University's Bait and Switch on Coverage of Birth Control
Fordham University prohibits the prescription of contraception at its health centers and the distribution of condoms on campus though many students aren't aware of that until they've paid for the school's insurance or visited the health center. Many are denied birth control even when facing health risks. This week, law students at the Catholic school are taking matters into their own hands by organizing a clinic just off-campus.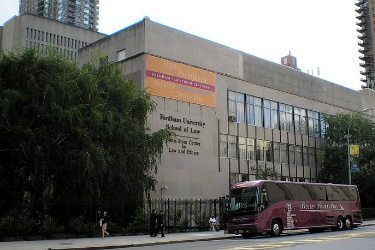 (img src)
See all our coverage of the Birth Control Mandate 2011 here.
A coalition of Fordham Law student groups has organized a birth control clinic just off campus that will take place this Wednesday. Though you wouldn't know it from the university website and insurance materials that explain our health plan covers contraception as mandated by New York law, our Catholic university prohibits the actual prescription of contraception at its health centers. Students with university insurance must get our primary care and annual exams on campus or incur extra costs, and since the health center won't prescribe it, that means extra costs for birth control. The distribution of condoms on campus is prohibited as well, though this rule is also not available in writing.
The Fordham chapter of Law Students for Reproductive Justice first asked the university for documentation of its policies eight months ago. We were planning a panel with Catholic theologians to discuss the doctrine behind the university's policies on contraception, but we couldn't find out what those policies are. The panel happened even though we never got the documentation.
Students often learn that the health centers have religiously-based prohibition on contraceptive care only after purchasing university health insurance or seeking care. The university's position seems to be "What do you expect this is a Catholic school?" Well, I knew I went to a Catholic school, but I didn't know I went to that kind of Catholic school. And, other students don't know about the Catholic aversion to birth control or don't expect it to affect health care for a religiously-diverse student population.
Furthermore, our undocumented contraception ban lacks a health exception. Administrators and health center staff claim there is one, but in practice it does not exist. One student with endometriosis was prescribed painkillers instead of birth control pills. A student with irregular periods and a sonogram of an ovarian cyst was refused contraception as well. Another student offered her medical records to prove she had had both an ovary and an abdominal mass removed and was at high risk of ovarian cancer. Before she could obtain a prescription for the pill, she was told to get a letter from her doctor, who is across the country and charges a $25 fee for such letters.
Students are of course free to see a doctor off-campus, but under their university insurance plan they will incur a $100 "per condition" deductible; this is in addition to the cost of an annual exam they already had at the university health center. In many cases, students don't learn about about the school's policies and these hidden costs until they are shivering in a paper dress on the table in a doctor's office. Students on tight budgets who want birth control have resorted to various workarounds. When health center staff refused to administer a Depo-Provera shot to a student, she had a friend of a friend who was an acupuncturist do it. Another had her medical resident boyfriend write her a prescription, though he had no experience in women's health. Most often, however, students get their medical care at Planned Parenthood, an organization perennially at risk of funding cuts whose resources are needed by uninsured and low-income patients.
We decided to organize the clinic after we got tired of writing and discussing and asking nicely for the policies. The clinic is a way to address the expense and inconvenience that result from the policies and to make unknowing students aware that the university provides non-standard health care. It is also an opportunity to discuss the significant but under-recognized influence on women's health of Catholic leaders far outside the lay Catholic mainstream.
Doctors from the Institute for Family Health were more than happy to help us with our clinic but it hasn't been easy to pull off. University administrators forbid us from having the doctors come to campus and have limited our ability to advertise to students. We rented a space, but lost it unexpectedly and had to scramble to find another. It is unclear whether the university is considering disciplinary action. It's been pretty chaotic, but we're still on.
Our university gives the impression that it provides standard care to its religiously-diverse student population, perhaps because it fears alienating its many moderate Catholic and non-Catholic students. Its insurance plans technically cover birth control because it is ineligible for the religious exemption in New York's Women's Health and Wellness Act, but still make access to birth control difficult and expensive and in this way it really isn't "covered." So even at a university that does not qualify as a religious institution under state law, women's health is quietly marginalized for religious reasons.
This is not something anyone, let alone a bunch of soon-to-be lawyers, should just accept. We deserve documentation of the policies affecting our health and finances and the freedom to solve the problems they cause off-campus at the very least. The law school student body and faculty have been extremely supportive; they are grateful and proud of our efforts. Students have shared their stories with us of how the university's practices have affected their lives and health and an important conversation has begun on campus. And, the university seems to be taking our concerns a bit more seriously since we decided to take matters into our own hands.
---
These groups are asking you to join them in telling the White House not to capitulate to the United States Conference of Catholic Bishops and throw women under the bus on contraceptive coverage:

Physicians for Reproductive Choice and Health

Planned Parenthood Federation of America